Manuel Friedrich and Michal Kadlec Fight for Lionel Messi Shirt on
Bayer
Leverkusen 1-3 Barcelona | Leverkusen defenders fight for Messi's shirt Jersey(16 Feb)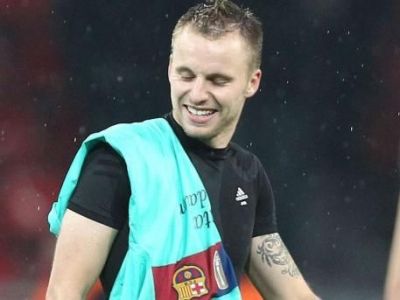 Two Bayer Leverkusen players will be forced to auction off Lionel Messi Barcelona shirts they grabbed after Champions League defeat on Tuesday.
Sports director Rudi Voeller said the players were too enthusiastic in their quest for a souvenir after the 3-1 defeat.
Defender Michal Kadlec, who scored the Germans' only goal in their last-16 first-leg defeat, had sought the Argentina player's top at half-time, but was beaten to it in the tunnel by fellow defender Manuel Friedrich.
Kadlec then got Messi's shirt at the end of the match, much to the irritation of Voeller.
Messi, the world footballer of the year, is having another spectacular season, scoring Barca's third goal on Tuesday to make it 25 goals in his last 24 Champions League matches for the competition holders.
'I can guarantee you that these two players will auction off the tops for a good cause,' Voeller told Bild newspaper on Thursday.